Insert Paper Between Rolls:
Disengage the nip to allow our paper to be inserted. Not much room is needed: 1/8" is sufficient.
After the nip impression paper is nicely centered between the disengaged nip rolls, engage the nip at your standard pressure to make an impression.
Then release & remove the nip impression paper.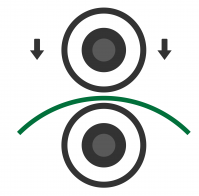 Sideview
Lay nip impression paper on the lower roller, centered, then engage the nip system.

Perfect Nip Result
Proper Crown
Good Impression Result

Crown Too Large
This Roller Crown Is Too Large

Unbalanced Load
This Shows A Unbalanced Load or Misaligned Rollers

Banding/Wear/Grinding
Banding, Roll Wear, or Grinding

Check Load & Crown
Check Load or Roll Crown
(roll diameter issues)